Funeral Flowers
Flowers are a way to commemorate life's most significant celebrations. From birthdays to weddings, they are essential to almost all family occasions. Funeral flowers continue to hold great importance to most funeral traditions and services today. Let PEAR TREE HOME.FLORIST.GIFTS help you choose the perfect tribute to express your feelings for the departed. We are experienced in delivering to all funeral homes in Powder Springs and the surrounding areas.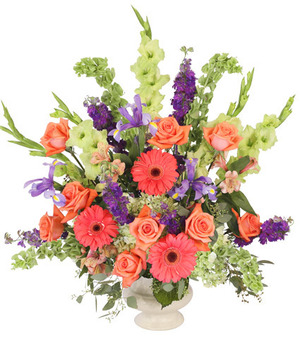 Bittersweet Evening
Funeral Flowers
Send joyous blooms in celebration of the life of a dear friend with the Bittersweet Evening funeral arrangement that is perfect for any funeral, memorial service, or wake. Vibrant Gerberas and roses surrounded by luscious hydrangeas and purple irises bring out the bright spirit of someone you will never forget.
Order within 12 hours 5 minutes for Same Day Delivery!
Funeral Homes in Our Delivery Area:

| Name | Address | Phone |
| --- | --- | --- |
| Bellamy's Funeral Home | 4405 Marietta St Powder Springs, GA. 30127 | (770) 943-3547 |
| Mayes Ward-Dobbins Funeral Home | 3940 Macland Rd Powder Springs, GA. 30127 | (770) 943-7511 |
| Collins Funeral Home Inc | Po Box 557 Acworth, GA. 30101 | (770) 974-3133 |
| Rolling Hills Funeral Home Georgia Crematinon Cen | 4325 Highway 92 Acworth, GA. 30102 | (678) 398-9266 |
| Davis Struempf Funeral Home | 1975 E West Connector Austell, GA. 30106 | (770) 944-2900 |
| Roy Davis Funeral Home | 5935 Mulberry St Austell, GA. 30168 | (770) 948-2552 |
| Benson Funeral Home | 309 Hardee St Dallas, GA. 30132 | (770) 445-9494 |
| Jeff Eberhart Funeral Home Inc | 123 Watson Dr Dallas, GA. 30132 | (770) 445-4496 |
| Couch, Garner & Cole Funeral Home | 6246 Broad St Douglasville, GA. 30134 | (770) 920-2228 |
| Hightower's Memorial Chapel | 12651 Veteran's Memorial Hwy Douglasville, GA. 30134 | (770) 489-2818 |
| Jones-Wynn Funeral Home | 2189 Midway Road Douglasville, GA. 30135 | (770) 942-2311 |
| Simpson & Daughters Mortuary | 6787 Forrest Ave Douglasville, GA. 30134 | (770) 942-2364 |
| Whitley Garner Funeral Home | 8640 Rose Ave Douglasville, GA. 30134 | (770) 942-4246 |
| Willie A Watkins Funeral Home | 8312 Dallas Hwy Douglasville, GA. 30134 | (770) 489-6751 |
| Bellamy Funeral Home Svc | 3551 Jimmy Lee Smith Pkwy Hiram, GA. 30141 | (770) 943-8050 |
| Clark Funeral Home | 4373 Atlanta Hwy Hiram, GA. 30141 | (770) 445-7133 |
| Paulding Memorial Gardens | 3566 Jimmy Lee Smith Pkwy Hiram, GA. 30141 | (770) 943-9907 |
| Winkenhofer Pine Ridge Funeral Home | 2950 Cobb Pkwy Nw Kennesaw, GA. 30152 | (770) 422-7299 |
| White Columns Funeral Chapel | 1115 Clay Road Sw Mableton, GA. 30126 | (770) 948-0113 |
| Carmichael Funeral Homes | 1130 Whitlock Ave Sw Marietta, GA. 30064 | (770) 424-4924 |
| Dobbins Mayes Ward Funeral Home | 180 Church St Ne Marietta, GA. 30060 | (770) 428-2636 |
| Georgia Memorial Park Funeral Home & Cemetery | 2000 Cobb Pkwy S Marietta, GA. 30060 | (770) 952-4478 |
| H M Patterson & Son | 1157 Old Canton Rd Marietta, GA. 30068 | (770) 977-9485 |
| Hanley-Shelton Funeral Drctrs | 473 Lawrence St Ne Marietta, GA. 30060 | (770) 428-6333 |
| Hay-Gantt Funeral Home | 1010 Roswell St Ne Marietta, GA. 30060 | (770) 422-1234 |
| Hispanic Funeral Care | 595 Franklin Rd Marietta, GA. 30067 | (770) 419-1819 |
| Marietta Funeral Home | 915 Piedmont Rd Marietta, GA. 30066 | 7 (704) 254-4484 |
| Mayes Ward-Dobbins Funeral Hm | 180 Church St Marietta, GA. 30061 | (770) 428-1511 |
| Norman Medford-Peden Fnrl Home | 1408 Canton Hwy Marietta, GA. 30066 | (770) 427-8447 |
| Southcare Funeral Home | 595 Frankln Road Se Marietta, GA. 30067 | (770) 427-9292 |
| Southern Cremations & Funerals At Cheatham Hill | 1861 Dallas Hwy Marietta, GA. 30064 | (770) 919-7100 |
| Southern Cremations Funeral Home At Cheatham Hill | 1861 Dallas Hwy Marietta, GA. 30064 | (770) 424-1111 |
| West Cobb Funeral Home | 2480 Macland Rd Marietta, GA. 30064 | (770) 479-9234 |
| West Cobb Funeral Home Inc | 2480 Macland Rd Sw Marietta, GA. 30064 | (770) 419-9234 |
| Carmichael Funeral Homes | 2950 King St Se Smyrna, GA. 30080 | (770) 435-4467 |
| Castellaw Funeral Home | 866 Church St Se Smyrna, GA. 30080 | (770) 435-9038 |
| D.l.tuggle Funeral Home | 2201 South Cobb Drive Smyrna, GA. 30080 | (678) 217-7467 |
| Georgia Memorial Park Funeral | Po Box 1283 Smyrna, GA. 30081 | (770) 612-0505 |
| Southcare Memorial Chapel | 2481 Cobb Pkwy Se Smyrna, GA. 30080 | (770) 437-0095 |
| Evergreen Mortuary | 116 Cleghorn St Villa Rica, GA. 30180 | (770) 459-3667 |
| J Hoyt Thomas Funeral Home | 1011 Topaz Ln Villa Rica, GA. 30180 | (770) 459-3676 |
| J. Collins Funeral Home | 206 S. Carroll Road Villa Rica, GA. 30180 | (770) 459-6090 |
| Jones-Wynn Funeral Home Inc | 306 Westview Dr Villa Rica, GA. 30180 | (770) 459-3694 |